If I had a bestfriend in this World I'd want her to be Beyonce. I feel like we both value loyalty, every-single-thing we've worked for (I value a skirt I bought from Primark just as much as a 'designer' item) and neither of us would ever want to compete with one another because we're both complete absolute fucking psychos when we get pissed off, jealous or competitive and the World would probably explode if we ever had a dispute. And she has cute feet right? Also we both take very badly to genuine insult, it is difficult to insult either of us. And we both have mummy issues. People don't understand women who have mummy issues yet. We have completely different tastes in men, but also we don't lie. And we both have good manners. And good taste. SPEAKING OF TASTE – I HAVE A NEW FORTUNE COOKIE-ISM. I'll write it below.
When I was younger I felt okay with my size because I saw Beyonce was the same size. Obviously Beyonce is taller than me but it's fine. We can still swap clothes right?
Shortly after I designed this scarf –
(I glanced at the drains on the street outside of a psychiatric ward on my daily fifteen minute walk and I saw the outline of a black Panther. Artists are always looking for the shapes in things. I made this scarf when I was in a ward, and I sent off for it. It's printed on silk. I made a knot of it with a faux Louis Vuitton handbag I got from Syria around about that time. Recently I burned the frayed edges and I'm going to give the scarf to my teacher Lisa's little sonnephew Matty-bratty.)
As in… days after I designed this scarf… Beyonce did a Black Panther tribute.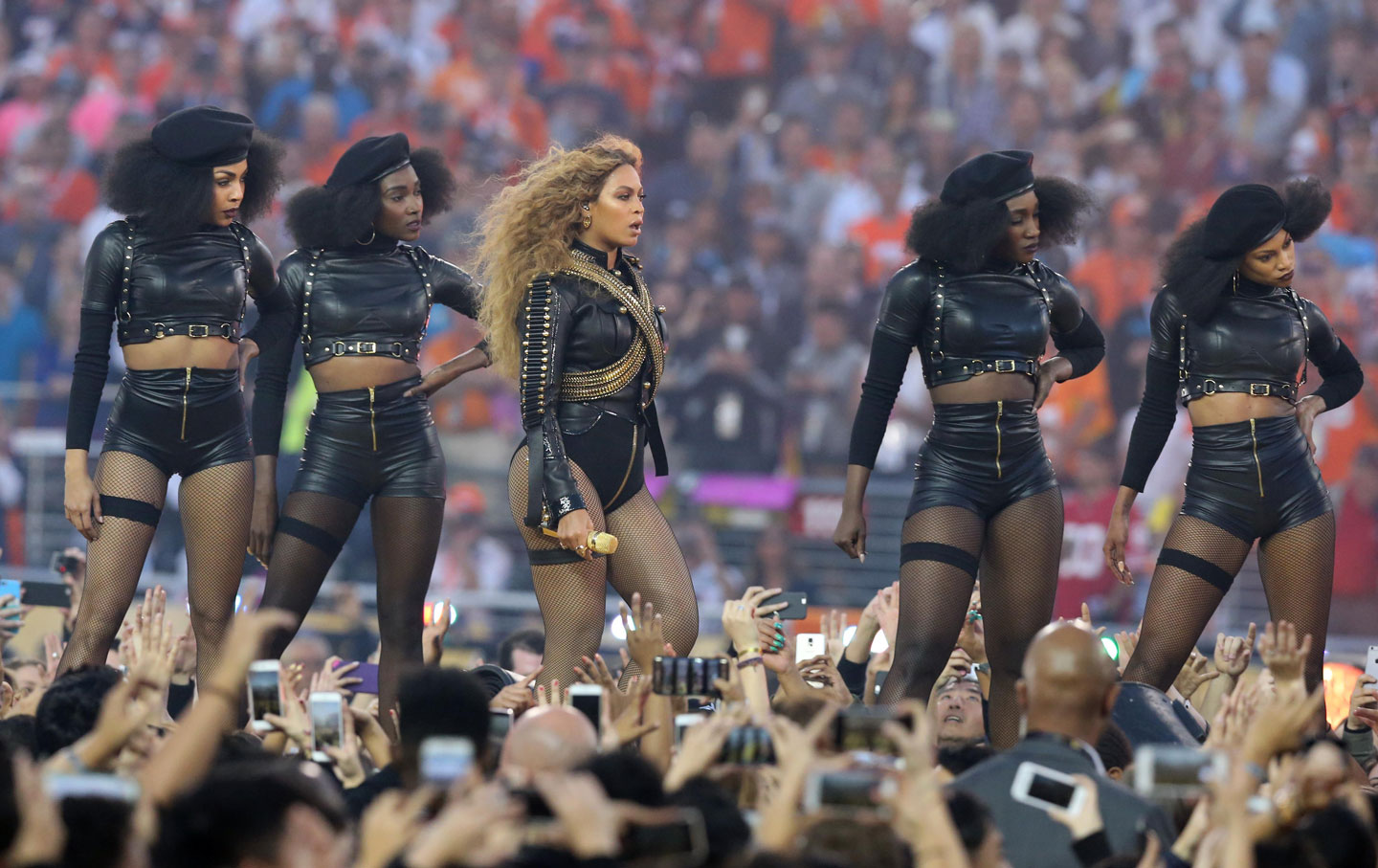 Beyonce at Levi's Stadium, photographed by Matthew Emmons 
Image courtesy of Google and The Nation
A subtle one. Can you believe she kept me going? That ward trip was a stab in the back. There's a tarot card of a person lying on their front with swords sticking out of their back – I believe the ten of swords. You want to read tarot? You have to experience EVERY.SINGLE.CARD. Could you believe that the figure in that card might still be alive? It takes a tough person to piss off enough people to be stabbed in the back ten times.
My spiritual teacher Lisa once told me to cook. When I was growing up I never cooked – we didn't have the ingredients in the house. No one taught me how to cook. I have seen about… two or three kitchen shows and a season of British Bake Off.
My teacher Lisa taught me to cut mushrooms into four and how to cut spinach. My granma Conchita once let me add spices to a Mexican beef dish. I am… insane about spices. I've said before – smoking kills your tastebuds so if you want to enjoy food as a smoker – you need to season it.
Today in varying moments I thought about Bruce Lee – if you read my previous post you'd know why. I was thinking of him and cooking – and also Gordon Ramsay – and I recalled a moment where Gordon said "presentation is KEY" and Bruce Lee in total Bruce-Lee philosophical agreement added "yes but first comes TASTE, then comes presentation". You wouldn't BELIEVE what I used to cook this chicken.
Elder Flower Cordial. Vegan Chocolate. Starch. Raspberries.
So. Here's a kitchen hack. I saw a person I'm not talking to right now because we are in a big fight cooking using lemons – which she learned from going to chef school. I LIVE for eating lemon with EVERYTHING. I have been ridiculed for it but actually it's the ingredient you didn't know your food needed.
If you cook it in liquids, the skin of the lemon goes soft enough to eat – and it is a taste you've never tasted before. And it tastes good. Try it.
Almost everything in this photo is either old, second hand or was ridiculously reduced because no one else wanted it. (The Hello Kitty Kimono trench discounted. I still haven't removed the label because it is that precious.) Or I made it/illustrated it/was used to make it/illustrate it. Actually you can't see the detail – but in that photo – is the most recent depiction of the Baphomet since maybe Eliphas Levi's. There are cults, fraternities and brotherhoods that would pay billions for that postcard, believe me you. (Would I sell it? No – Art is worth more than cash.) I wonder whether the Vatican would want to examine it even.